You want a new car, but you're not too keen on the big price tag a brand-new vehicle can demand. That's why we'd recommend you pay us a visit at Schicker Ford. Our inventory of new Ford cars currently includes a selection of 2017 models that we're selling at clearance rates. The bargain you've been looking for? It's waiting at our dealership.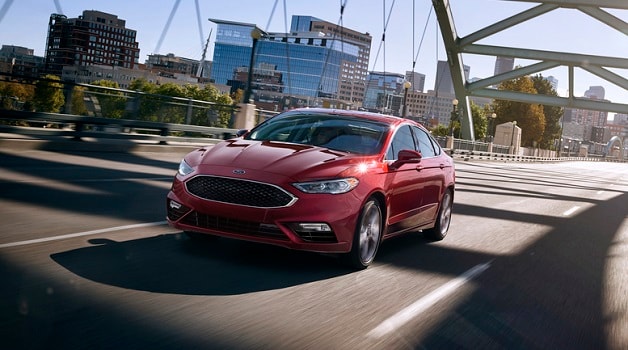 When you visit our dealership, you'll find a great selection of 2017 Ford vehicles including the Ford Fusion. This highly-rated vehicle offers the space and features you're looking for in a family sedan. It likewise delivers a wealth of powertrain options that offer everything from high performance to high efficiency. Here's a look at its engine options:
2.5-liter inline-4: 175 horsepower, 175 pounds-feet of torque, 21/32 miles per gallon
1.5-liter turbocharged inline-4: 178 horsepower, 177 pounds-feet of torque, 23/34 miles per gallon
2.0-liter turbocharged inline-4: 240 horsepower, 270 pounds-feet of torque, 21/31 miles per gallon
2.0-liter inline-4 and permanent magnet C synchronous motor: 188 horsepower, 129 pounds-feet of torque, 43/41 miles per gallon
2.7-liter twin-turbo V6: 325 horsepower, 350 pounds-feet of torque, 17/26 miles per gallon
Decked out with a bevy of great features spread across several trims, the 2017 Fusion is just one the great options currently being offered at our location in St. Louis, MO. To find out more, get in touch with our sales team. We'd love the chance to help you find the new and affordable vehicle you're looking for.